FREE Fitness and Muscle Building Programs
Workouts That Work Super Fast To
Burn Fat, Build Muscle and Increase Strength!
Enter your first name and a valid email address
for free instant access to the workout programs.


Eaglewood Body Sculpts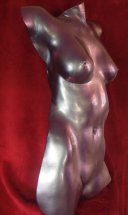 It started as doing face molds and sculpts of his children for his own pleasure and has grown into one of a kind art and display pieces.
 The artist, Clay Williams has taken what some people view as simply a body mold and transformed his pieces into singular works of art. Every piece is done with the models' best features in mind, and to enhance and accentuate those features. What is simply a mold of someones body is transformed by the creative talent and eye of Clay, who creates these one of a kind eye-catching works.
Imagine taking your body in its best shape and preserving it for many years to come?  In essence, this is stopping the hands of time for your body. You will be able to look at the piece created for you with pride. The trophy that you worked so hard to win will be highlighted by these pieces. A picture is great, but this is so much better. You will be able to see every detail of your physique. Look at it and you will discover every muscle ripple, shred, rip and line of you being the best you can be. You will see things that you didn't even know were there. The detail is amazing. This is also a good incentive to maintain your physique in the way you were when you captured that prize.
The process is fairly straightforward—The portion of the body that you want to highlight is chosen, and then you will strike some poses for the artist. His eye will catch what you do not see. The pose is then chosen and the fun begins. Clay will apply a body safe silicone molding compound and then a plaster shell over that to maintain the shape. The entire process take about 2-3 hours depending on what portion of you body you want and how extensive of a mold is done. That's all there is to it. Then the artist takes over and creates your individualized work of art. You can select a variety of material and finishes to be used on the piece, from metallic to stone or anything in between. Or you can give Clay creative freedom and he will surprise you.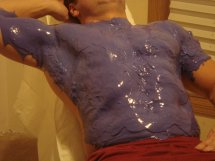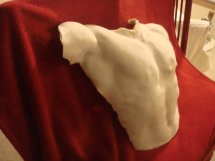 The Eaglewood studio is located in Imlay City, Michigan, just north of Detroit approximately 40 miles. Clay works out of his home currently.  If you would like him to travel to your location  to create the mold, this is an option also.
Clay currently has pieces entered in the juried Michigan Fine Arts Competition in Birmingham, Michigan and is a member of the Association of Lifecasters International. He has been co-featured in Kitbuilders Magazine for some of his other work with other artists also.
You can view more of his work at www.eaglewoodtc.com. If you want to have Clay create a piece for you, please contact him directly at 810-358-0209 for pricing and options. You will speak with Clay. You can also email him at clay@eaglewoodtc.com
Where will you imagination take you??
Click Here For Free Fitness and Muscle Magazine