FREE Fitness and Muscle Building Programs
Workouts That Work Super Fast To
Burn Fat, Build Muscle and Increase Strength!
Enter your first name and a valid email address
for free instant access to the workout programs.

Top 5 Celebrity Fitness Secrets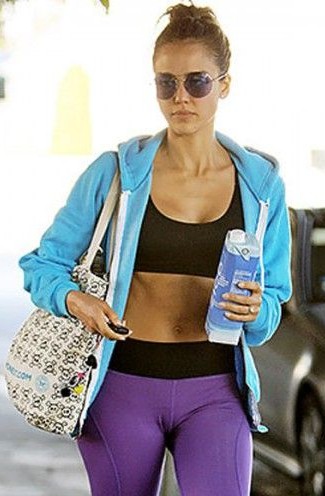 Thanks to a whole bunch of celebrity Snapchats and inside info provided by trainers to the stars, we are pleased to present a short but comprehensive list of the top 5 celebrity fitness secrets that always make famous people look like they've come from a totally different planet without chocolate, cocktails or endless TV binge-watching coupled with snacking.
Forget The Scale
The likes of Halle Berry and Anne Hathaway, who had to wear those unforgiving leather catwoman suits know this all too well - let your clothes, and not the scale, be the judge of how fit you are. The scale will give you all the correct numbers, but it will not tell you whether you could pull off a bikini or not, and has no idea what the status of your problem areas is. Pick a piece of clothing from your closet, such as your favorite skinny jeans or your bathing suit, and slip it on once a month. This will show you exactly what you need to focus on or it could show you to just keep up the good work because it is producing amazing results.
These Legs Are Made For Walking
Celebrities who like to walk, including Jessica Simpson, Megan Fox, and Hilary Duff are much better at hitting their daily fitness targets than those who prefer to take the car everywhere to get away from the paparazzi. Walking is a great exercise for new moms who can't go back to their regular workout routines just yet, but can take the stroller and the little one outside for a mild fitness boost.
One Size Doesn't Fit All
Every celebrity has their own way of working out and keeping up their good shape, but just because a workout routine works for Drew Barrymore doesn't mean it will work for you. Speaking of Drew, her apple-shaped figure means her problem area is the mid-section, whereas Jennifer Lopez, for instance, is pear-shaped, which means her thighs and behind are where she stores all the extra pounds. A rowing machine works wonders for apple-shaped ladies because it engages the core muscles from shoulder to belly, and so do the planks. Pull-ups and bench press, on the other hand, would just add bulk to their back and arms, which would to nothing to prepare them for bikini season. Also, pear-shaped ladies are advised to stay away from heavy leg exercises, such as leg presses or anything that puts an emphasis of the quads. 
Get In, Do The Work, Get Out
Going back to Halle Berry, who at the age of 51 looks spectacular, it should be noted that most celebrities, like us regular folks, are not crazy about working out all the time. That's why Ms Berry prefers her workouts short and intense so she can be done quickly and move on to some of the more interesting stuff going on in her life. Short, high-intensity circuit training can build muscle and bone density, boost metabolism, and it can be done anywhere, which makes it super-convenient for busy moms or anyone struggling to find the time to go to the gym.
Do What You Love
Hating the treadmill is perfectly fine, and actress Amy Adams is totally with you on that one. She's not a fan of endless indoor running, but loves pole dancing, and apparently so do Emma Watson, Cindy Crawford, and Kate Hudson. If you don't enjoy conventional workout methods, find the exercises that make you feel good about what you're doing. That way, you won't find yourself in an exercise rut, hating the gym, your trainer, and everyone around you who stares at your bulging belly for a few seconds too long.
Click Here For Free Fitness and Muscle Magazine